Contact

For more information contact:
Mark Leadbeater
CIKC Programme Manager
Electrical Engineering Division
University of Cambridge
9 JJ Thomson Avenue
Cambridge
CB3 0FA
Telephone +44 (0)1223 748370
Fax: +44 (0)1223 748342
email: info@cikc.org.uk
Web : www.cikc.org.uk
Maps
West Cambridge Site
The Electrical Engineering Building (housing the CIKC Office and CAPE) is circled in red on the map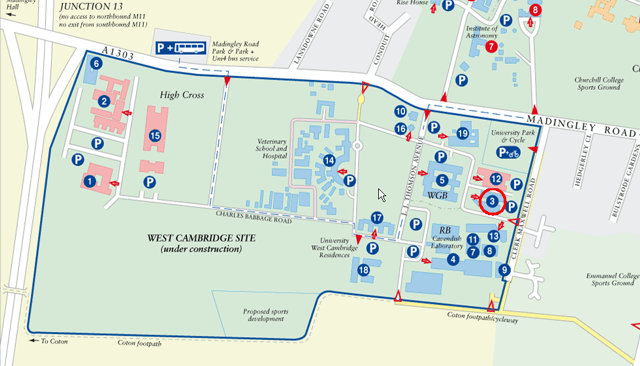 Region | University | City Centre
Directions
By car
Please note that car parking for visitors is strictly limited and should be prearranged through your host. There is a nearby park and ride site on Madingley Road.
Going north on the M11 from London/Stansted, leave the M11 at Junction 13, and turn right towards Cambridge.
If travelling from north of Cambridge, drive south on the A14 and continue going south onto the M11. Because it is not possible to leave the M11 at junction 13 when travelling south, you should continue along the M11 to junction 12 (Cambridge, Wimpole and Barton), and double back, by negotiating the roundabouts to re-join the motorway going north so that you can take the exit to Cambridge at junction 13 as above.
Take the third turning on the right (JJ Thomson Avenue – signed to the Cavendish Laboratory).
Take the first left, before the William Gates Building.
Follow the road around, past the Microsoft building (on the left). The Electrical Engineering building is immediately after, on your left – it has afountain outside.
There is a small visitors' car park in front of the Electrical Engineering building.
Bus
The uni4 bus runs between the West Cambridge Site (JJ Thomson Avenue) and the city centre every 20 minutes. These services also stop at the Madingley Road Park & Ride site. The central drop-off point for other bus services is at the bus station on Drummer Street.
uni4 timetable
Train
There are regular train services to Cambridge from London and the major airports. From the train station the department may be reached by taxi or bus.
Cambridge <-> London Services