Training
Courses
The educational and training component provides CIKC-funded staff and students with skills and tools to understand the challenges and opportunities in the application of science and technology to the marketplace.
During the course of the CIKC, training programmes included a six day intensive course, Ignite, delivered by the Centre for Entrepreneurial Learning (CfEL); an evening lecture series on Management of Technology and Innovation (MoTI) delivered by the Judge Business School; a three day Technology and Innovation Management (TIM) course at Jesus College targeting industry professionals; and a two week technology and innovation management module; part of the Institute for Manufacturing's Industrial Systems, Manufacture and Management MPhil course.
All courses had the greatest impact in terms of improving the attendees' general knowledge and appreciation of technology commercialisation, as well as technology and innovation management. Ignite, in particular, benefited PhD students with an interest in entrepreneurship or those looking to continue taking their research towards commercialisation.
The course enabled students to enhance their network and build contacts from business and industry. One of the Ignite attendees has since moved from a research to a business development role and another attendee – a research associate – has moved to an industrial role.
Of those that attended the three day TIM course, two research associates are now working in start-up technology companies, one as a COO of Eight19. CIKC also provided backing for i-Teams, a project at the University of Cambridge that brings together leading university researchers with multi-disciplinary teams of the brightest students and experienced business mentors to investigate the commercial prospects of a researcher's new invention. One of those to have benefited is Dr Damian Gardiner, who is now in the process of exploring commercialisation routes, with a Royal Academy of Engineering Enterprise Fellowship, to bring to market a printable laser technology that could benefit several industries, such as healthcare and brand protection.
Dr Frank Wang, who attended the training courses and also i-Teams, says: 'Even though I was a PhD student at the time of attending these, it really benefited me because it impressed on me that there is an alternative path to a career within pure academia or science – I became immersed in entrepreneurship. '
Following the courses in 2009 and 2010, Wang set up CamLase Ltd, a spin-out company from the University's Engineering Department, which is developing a new generation of compact, low-cost and powerful ultrafast fibre lasers for a wide range of scientific and commercial applications.
In CamLase Wang has been putting the skills taught by the courses into practice. 'We registered the company two years ago and have applied for patents. Now that we have been able to protect our IP we are now talking to private investors.'
Student projects
Core to CIKC's remit is the delivery of student projects that facilitate technology transfer by bringing commercial skills, primarily in strategy, marketing and business planning, to early-stage technology. This element provides opportunities for graduate students in business to use the skills gained in the classroom in a practical context through work on projects related to the commercialisation of CIKC technologies. In return, CIKC partners get access to teams of exceptionally bright and motivated students to tackle problems of real business importance.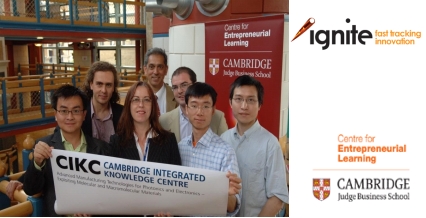 CIKC recently funded 5 participants on the Ignite entrepreneurship summer school run by CfEL.